Pre-Warranty Expiration Inspection
Is your home covered by a warranty?
Many homes come with a standard one year warranty against building materials and workmanship.  Problems often arise after the warranty has expired. These problems can be a real nightmare.  Don't wait until these make your life miserable: "protect yourself and your investment!  Let TDR Inspections help give that piece of mind. We will examine your home's structure, plumbing, mechanical and electrical systems to identify defects and other problems before they become your problems. We will find quality issues with your new home so you can have them fixed before your warranty expires.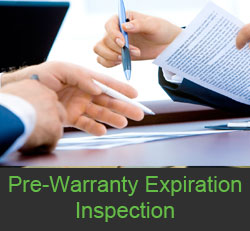 CALL TODAY!
(440) 862 - 2370

IF YOU ARE IN THE NEED OF A CERTIFIED HOME INSPECTOR CONTACT
TDR INSPECTIONS TO SCHEDULE YOUR INSPECTION TODAY.